Based on the initial implementation efforts across the dozen projects, the bank saw that Hexawise allowed their test teams to shrink their test suites on average by 25%, while maintaining the same or more test risk coverage. Because of this test design optimization from Hexawise, test teams are now able to start and exit their test efforts early by at least one week in advance.
Across the organization, Hexawise is currently used for...
Requirements definition
Functional testing
User acceptance testing
Systems integration testing
API testing
Non-functional testing
Regression testing
Agile sprints
Test automation efforts, and many other projects
On one of the initial projects, designing tests for a mobile bank transfer application, the team used Hexawise test optimization capabilities and clear coverage reports to realize that in comparison to their previous, manually-selected tests, they could actually achieve the same level of test coverage in 82% fewer tests with Hexawise. In addition, if the team wanted to significantly increase their test coverage by more than double, they could use the same number of tests as before: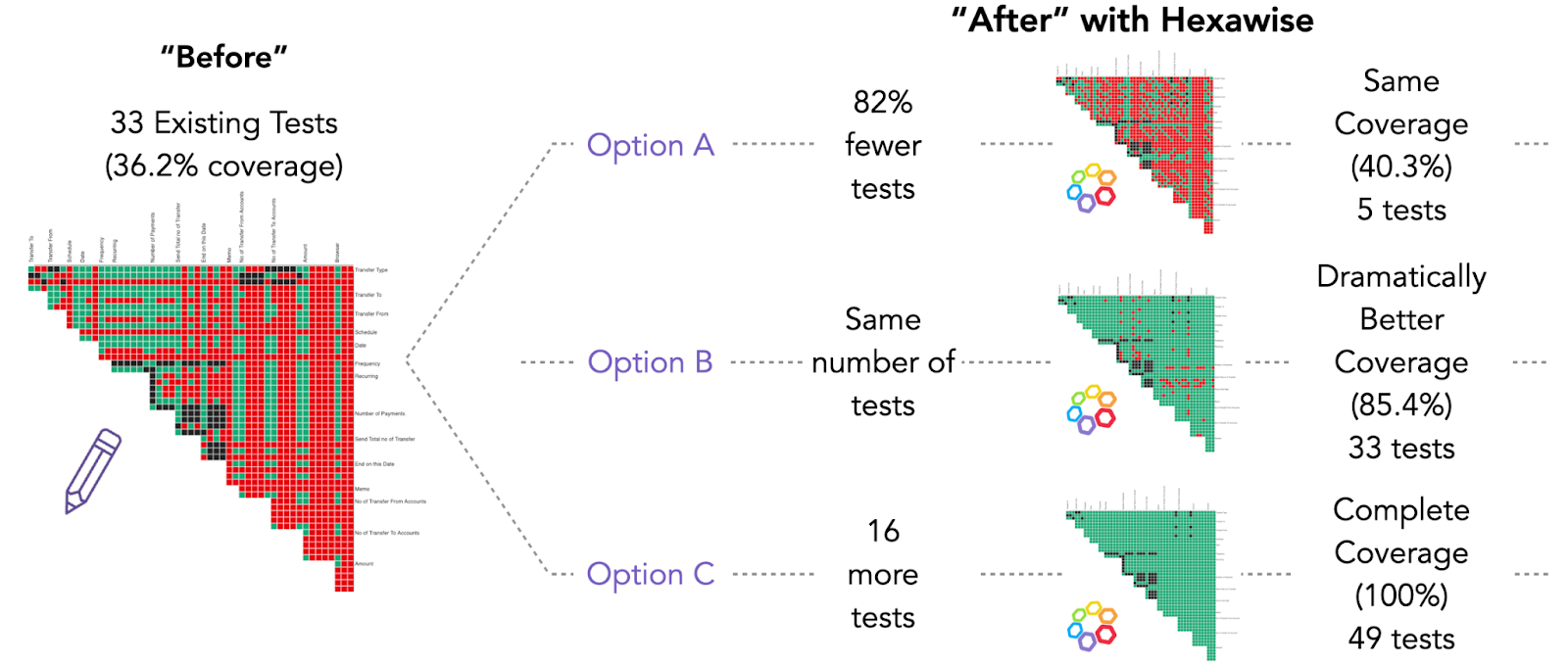 Hexawise's Coverage Matrix allowed them to make these risk-based decisions in real time about their execution efforts. As a result, the gaps in communication between business and technical teams drastically shrunk.
Overall, the bank's stakeholders translated the savings that were realized within the initial projects to an annualized, direct cost avoidance of up to $800,000 across the spectrum of projects within their Testing Center of Excellence. They are now also able to have accurate conversations with banking regulators to showcase the fact that their testing processes are implementing a quality-first and risk-based approach to running thorough examinations of their applications and systems, thus eliminating any future doubts from the agencies during audits.
Additionally, Hexawise usage continues to exponentially grow at the bank - stakeholders mandate the use of Hexawise for every testing project across the organization. At the conclusion of 2021, there were more than 220 Certified Hexawise Test Design Professionals at this top Canadian bank.